Best Fishing Vacations in Costa Rica and Panama
Fishing in the tropics is in the bucket list of many anglers. Both seasoned experts and beginners can find the perfect fit for their needs at our destinations. Get a seamless experience with professional assistance and create memories that will last a lifetime!
Fishing Vacations: Professional Advice for Anglers in Central America
Fishing Vacations was born from the idea of a central site that offers expert advice on all things fishing. While others proclaim to be experts that know all things fishing from around the world, we focus on the markets we know!
Both Costa Rica and Panama are world-renowned for some of the best offshore, inshore and freshwater fishing in the world. Discover their wonders for yourself in a personalized fishing package designed for your needs and wants.
How to Get the Best Fishing Trip
As fishermen ourselves, we know the challenge of planning a quality fishing trip. These are the key aspects to consider when planning a truly world-class experience.
1. Pick the Right Destination for the Right Catch
Most fish can be found throughout the year in several locations. So once you know where you want to go, you can decide which species you want to fish for. Then it's time to narrow down to the details, which really make the difference.
Picking the right destination is only part of the battle. The destination and target species will determine the best time of year and the type of fishing trip you'll want, as well as the best lodgings and tours for you. From fishing luxury resorts to jungle adventures, this trip can have it all.
2. Define the Time and Crew
Knowing where you're going lets you ask the right follow-up questions. When is the best season to travel? Where should you fish from? Who should you fish with? Which hotel is right for you?
These are the most important questions in our minds to create the perfect fishing package vacation for you. It's true that when the fishing is great, any guide or captain can catch fish. However, when the bite gets tough, the guides and captains are the ones who pull out all the stops to make things happen.
Knowing personally the boats, captains, and crews helps us make the recommendations that will put you in the water at the right time and the right place to maximize your chances.
3. Get a Personalized Package from a Local Expert
This is what we do. Our team of fishing experts is devoted to offering truly unbiased recommendations on where to fish, when to fish, and who to fish with.
The goal is simple: let us help you navigate the murky waters of planning your trip. We will build a completely customizable itinerary to fit you like a glove.
This is not a one-size-fits-all experience, which all too often people find themselves booking. It's about making the fishing vacation of your dreams come true.
4. Book the Fishing Trip of a Lifetime
Ready for the next step? Check the itinerary designed for you and modify it until it's exactly what you want. Then simply book and let us take care of everything else.
If you have any questions about your target species, ideal dates to catch them, or if you want to know more about your preferred country to visit, contact us and we'll gladly help.
Meet the Team
This team of travel and fishing experts are more than happy to help you make the most of your trip to Central America.
Justin DeBoom – Costa Rica & Panama Expert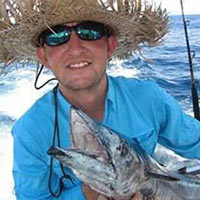 Originally from Florida, I have lived, traveled and fished throughout Costa Rica and Central America for the past decade. After fishing all over this amazing area from coast to coast and competing in all the major tournaments here, I now take great pride in helping other anglers plan one of a kind world-class fishing adventures.
Jake Alexander – Costa Rica Expert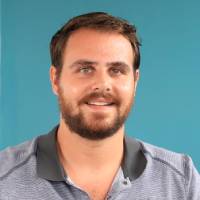 Originally from Wilton, CT, I first came to Costa Rica in 2010 to visit some Costa Ricans or "Ticos" who I worked with in the United States. I instantly fell in love with the country and culture, and could not wait to come back. After visiting several times, and a few extended stays, I decided to make this my home. I am passionate about fishing, SCUBA diving, as well as anything on the water. I strive to make your experience here in Costa Rica truly unique and world class.
Rebecca Anderson – Costa Rica & Panama Expert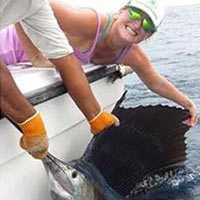 Growing up in Wyoming, I spent my youth fishing the streams, rivers and lakes near my hometown. However, reeling in my first sailfish had me hooked on the great world of sport fishing! Now, I spend my time exploring the incredible fishing in Central America & sharing my passion with other anglers looking to experience this amazing location.
Luke Angus – Costa Rica Expert
I grew up in the North East of England, home to some of the best Salmon fishing in Europe and some of the worst weather on the planet! Having switched to the tropical waters of Costa Rica and Central America, I now get to fish without the need for thermals and help other anglers plan one of a kind fishing adventures to a world-class fishing destination!