About Fishing Vacations
Professional Service with 20 Years of Experience
Planning Your Fishing Trip with Local Experts
We are Fishing Vacations, a branch of one of the largest travel agencies in Central America, Costa Rica Vacations.
We've been in business since 1999, with travel consultants who live in the country, fish these waters, and know the guides personally. Their insight and expertise add to the fishing experience with great tips and well-informed recommendations.
Meet the Travel Consultants
As experts on Costa Rica fishing vacations and anglers themselves, these travel consultants are more than happy to help you.
Justin DeBoom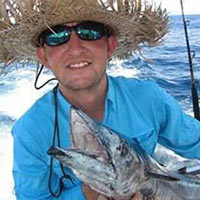 Originally from Florida, I have lived, traveled and fished throughout Costa Rica and Central America for the past decade. After fishing all over this amazing area from coast to coast and competing in all the major tournaments here, I now take great pride in helping other anglers plan one of a kind world class fishing adventures.
Jake Alexander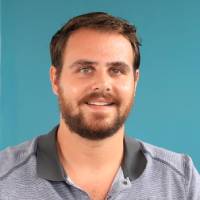 Originally from Wilton, CT, I first came to Costa Rica in 2010 to visit some Costa Ricans or "Ticos" who I worked with in the United States. I instantly fell in love with the country and culture, and could not wait to come back. After visiting several times, and a few extended stays, I decided to make this my home. I am passionate about fishing, SCUBA diving, as well as anything on the water. I strive to make your experience here in Costa Rica truly unique and world class.
Rebecca Anderson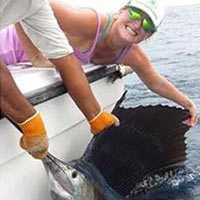 Growing up in Wyoming, I spent my youth fishing the streams, rivers and lakes near my hometown. However, reeling in my first sailfish had me hooked on the great world of sport fishing! Now, I spend my time exploring the incredible fishing in Central America & sharing my passion with other anglers looking to experience this amazing location.
Luke Angus
I grew up in the North East of England, home to some of the best Salmon fishing in Europe and some of the worst weather on the planet! Having switched to the tropical waters of Costa Rica and Central America, I now get to fish without the need for thermals and help other anglers plan one of a kind fishing adventures to a world-class fishing destination!
Why Plan your Fishing Vacations with Us?
An international fishing vacation can be hard to organize without the proper know-how or right contacts. Our local experts put together everything you need for a wonderful, personalized vacation based on your interests and budget.
Personalized Experience at No Extra Cost
Tell your travel agent what you want to catch or the type of fishing you want to do, and you'll have a travel package designed just for you in no time, and with no additional cost to you.
The travel agent updates your package until you get exactly what you want at the absolute best price available. You are truly getting a world-class crew and the best fishing adventure available in Costa Rica.
100% Satisfaction Guarantee
In addition, we hold a 100% satisfaction guarantee. We are dedicated to customer happiness prior, during and after your stay. Everything from the transportation to the hotel is carefully selected to fit your personality.
Getting an unbiased, third-party opinion from professional guides and operators on what you may and may not catch during your trip is what makes all the difference.
Local Expertise
We know the country and have fished on all the boats that we work with. This means we have first-hand knowledge of every single captain and boat, luxury hotel or condo.
You can be sure that we have checked and double-checked everything to tailor-make every single package fit your expressed wants and needs.