Costa Rica Fishing
Your One Stop Shop for Customized Costa Rica Fishing Trips!
Get a Free Quote
Costa Rica Fishing Vacations
From the moment you arrive in Costa Rica until the moment you depart, our local fishing experts are here to help every step of the way!
Most Popular Fishing Styles

Deep Sea

Fly-Fishing

Inshore
Best Fishing Destinations in Costa Rica
From full service marinas with luxury resorts to a rustic fishing lodge in the jungle, there are endless locations and lodging options in Costa Rica to call home during your fishing vacation.
Costa Rica's Most Popular Fish Species
With excellent fishing all year, just let our agents know your target species and we'll do our best to make your fishing vacation a success!
Costa Rica Seasonal Chart
The key to any successful fishing vacation is being in the right place at the right time of year. With unbiased recommendations, our fishing experts will do their best to put you where the fish are.

Acrobatic and strong, this is the largest and most sought-after fish on the Pacific Ocean.

Delicious and beautiful, this is an exotic and acrobatic target that will give you a good fight and a good meal.

This strong fish will try to outmuscle you every inch of the way. A real catch!

The fastest fish in the Pacific Ocean and one of the most prized targets.

A large, toothed fish from the shallower waters of the Pacific Ocean.

Also known as the Silver King, this massive fish is a real trophy.

Yellowfin Tuna are both strong and tasty. Don't miss out on one!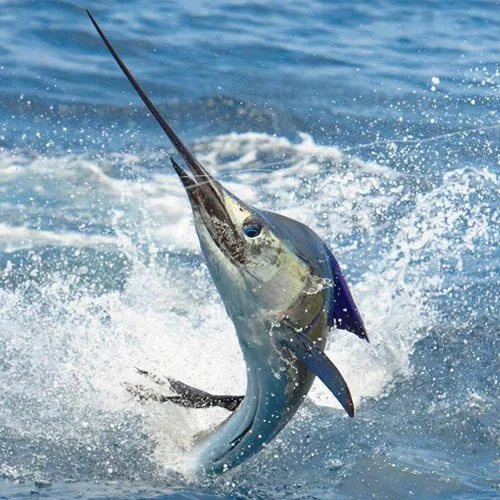 My friend and I had planned a once in a lifetime fishing trip to Costa Rica. [Our travel expert] helped us plan everything from the ground up. His expertise and willing spirit helped us feel confident in setting up fishing charters on both the east and west coast of Costa Rica.
Costa Rica Fishing: The Experience of a Lifetime
Costa Rica has become a dream destination for world-class sportfishing.
Whether your an avid angler or new to the sport, there is something for everyone here. With flat calm seas, great fishing year-round and easy access to boats, fishing in Costa Rica is a must do for anyone.
Go offshore and fish the deep sea for large pelagic species like Sailfish, Marlin, Tuna and Dorado. Or switch things up and go inshore targeting Roosterfish, Snapper and Tarpon. There is some great freshwater fishing as well in the lakes and rivers that traverse Costa Rica.
If you're not sure where to go, don't worry. Decide first what type of fishing you want to do and that will determine your destination in Costa Rica.
With a good grasp on what to catch in Costa Rica, finding the best time of year to travel is easy.
Once you decide the species you want to catch and the time of year, we will help pinpoint where you need to fish.
The Pacific vs the Caribbean
Both of Costa Rica's coasts, the Pacific and the Caribbean, offer different types of fishing.
The Pacific is the most popular fishing destination in Costa Rica. Go offshore to find amazing billfish action targeting Marlin and Sailfish. It's also possible to catch great table fares like Tuna and Mahi Mahi.
Inshore on the Pacific is all about the exotic Roosterfish or hard-fighting Snapper. Costa Rica's inshore is also a host to many other species like Snook, Jacks, and Grouper.
It's also possible to head far offshore, spending a few nights on the boat and fishing the famed FADs at Costa Rica's Seamounts.
This new fishery is the ultimate in Costa Rica fishing adventures and by far one of the most incredible Marlin fishing on the area.
Beyond the destinations available, there are many ways to fish in Costa Rica. Conventional or spinning is the most common, but fly-fishing is growing in fame. Both coasts offer unique fly-fishing opportunities.
Let your fishing expert know your target species and we will be happy to pair you with the best fly-guide.
When is the Best Time to Come to Costa Rica to Fish?
What makes Costa Rica a unique destination is that there is great fishing year-round. Pick your target species and our experts will pinpoint the right destination for you.
Due to the ocean's calm waters and rich biodiversity, conditions are almost always ideal. Because of this, most species don't need to migrate very far to cover their needs.
Being in the right part of the country and the right time of the year is key to a successful fishing trip.
The best way to get all the details right is to get help from a local angler and expert. Fishing Vacations provides advice and a hassle-free experience every step of the way.
How to Plan the Perfect Fishing Trip to Costa Rica
To guarantee a satisfactory trip full of fishing action, it is necessary to get to the very basics. An experienced crew, a properly-equipped boat, and a good captain. These are all crucial for the fishing vacation of a lifetime.
There are several steps to follow that can help determine whether a trip becomes a success or a fiasco. Make sure to consider these before buying a fishing package in a different country.
Plan the Trip with a Local Expert
A pretty website or a vacation wholesaler might not be the best option. Local expertise and fishing experience are more crucial. Getting local knowledge of all things fishing will help ensure your trip is a success.
If a local expert understands Costa Rica fishing well, they can help you make the right decisions to ensure a world-class fishing adventure!
Interview Potential Captains or Travel Agents
Ask questions about seasons and the most abundant species. Cross-reference fishing calendars with their recommendations.
Finding the most suitable boat and crew for your trip is key for a good fishing experience. Make sure the people you're talking to actually know what they are selling.
There are never any guarantees in fishing, but finding a professional and honest agent helps. Ask them to give you realistic expectations on what you may catch during a specific trip.
Try to find unbiased opinions on where and when to fish!
Don't Make a Decision Based Solely on Price
Fishing is an expensive activity all around the world. Fuel, bait, tackle, and maintenance all add up to the final investment, and a good boat is never cheap to start with.
If you see two boats that seem similar but have wildly different prices, there might be a good reason for that.
Choosing based only on price almost always ends up making for a very expensive boat ride.
In the end, there are costs affiliated with any fishing trip. Without an experienced crew, a boat alone will not fulfill your fishing dreams.
Be prepared to pay for good service and gear, but it's also possible to cut some expenses if needed. A local expert can help you navigate these pitfalls with a good outcome at the right price.
Work with a Travel Agency Specialized in Fishing
The beauty of most agencies is they don't own boats or hotels. If they are reputable, these agencies will offer unbiased recommendations.
The right boat at the right time of year in the right area are all key to a successful Costa Rica fishing trip. An agency can put you where the fish are to ensure every chance of a successful fishing trip.
This is what Fishing Vacations is set out to solve. With a few quick questions, our local experts will help design your one of a kind fishing adventure.
Seamless Costa Rica Fishing Experience
Your vacation time is precious! Enjoy that time relaxing and having fun, not stressing about what can go wrong.
Our goal is to help ensure you have a great fishing vacation in Costa Rica, minimizing potential mistakes and helping ensure your trip is perfect.
Fishing itself is a thrilling challenge, but the process to book a fishing vacation doesn't need to be. Contact us and one of our travel consultants will get in touch with you right away.
To get a personalized package that suits your needs, simply follow four easy steps.
1. Get a Free, Personalized Quote
What are you interested in? Catching Marlin with your buddies? Surprising your spouse with an anniversary gift? A family treat, or a more technical trip with specialized fly-fishing guides?
Once you contact one of our fishing experts, there is an array of exciting options. Get the best fishing tips that only an insider can provide.
Tell us what you want, and we will help you create the perfect plan with a customized quote.
2. Customize Your Itinerary
Ask your consultant questions and make changes to the itinerary.
Whether you want to add more tours or leave room for relaxation, it gets done. The goal is for you to get the exact trip you are looking for at the right price!
3. Book Your Fishing Trip
Once you've created your vacation and feel sure to book, we'll take care of the reservations and everything else.
Simply sit back and relax until the day comes to fish in the tropics.
4. Fish in Costa Rica
Enjoy your well-deserved vacation! We'll be taking good care of you the whole time. Once in Costa Rica, our 24/7 in-country customer support is here to help.
If you have questions or concerns during your trip, you are not alone! Sit back, relax and enjoy your fishing vacation.
We offer unmatched service before, during, and after your vacation with us. But don't take our word for it – we have hundreds of client testimonials to prove it.