Costa Rica Fishing Trips
Customized Fishing Vacations Planned by Real Experts!
Get a Free Quote
Personalized Fishing Trips
Whether you stay on the boat for an overnight trip or just enjoy day charters, Costa Rica offers a chance to test your skills with world-class sportfishing.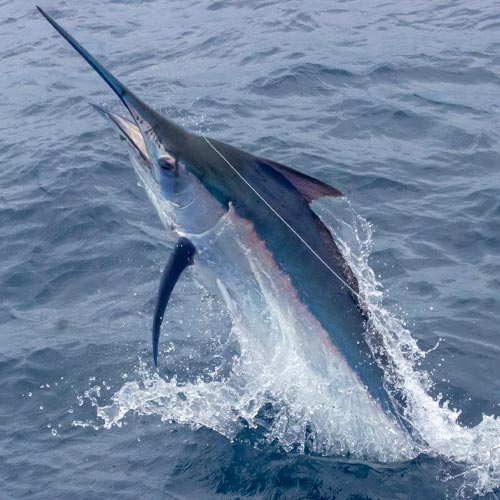 My travel arrangements are coordinated through Namu Travel Group. Exceptionally detailed planning and execution by my travel agent... I provided [her] with my ideal itinerary and she put it all together... Boats are clean, well maintained and the crew are focused, all business. No wasted motion. You show up, they're ready to get underway. Whether you're a seasoned angler or a first timer you won't be disappointed.
Best Costa Rica Fishing Packages
Make Costa Rica your fishing destination! With world-class fishing year-round and flat calm seas, Costa Rica is a perfect place to fish.
Increase the chances to catch your bucket-list fish by asking the right questions. When, where and how you want to target fish is key to planning your trip.
Offshore: Day Trips or Overnight Stays?
Whether you are an avid angler, looking for your bucket-list bill fish, or new to the sport, there are several differences to consider between these two types of offshore trips.
Day charters offer both great deep sea fishing and inshore fishing. A day charter departs each morning around 7 a.m. and returns that same day.
After a long session on the water, the nice thing about day charters is you return home each night.
Overnight fishing trips are for anglers who seek the next ultimate fishing adventure.
Venture offshore to the famed FADs located on the Costa Rican Seamounts for some Marlin mania. Or explore more distant waters in remote areas around Osa and Drake Bay.
Choose from 2, 3 or 4 night overnight adventures. These trips offer aboard amenities and fishing action from sun up until sundown.
Inshore Experiences
Inshore fishing might not be as popular as offshore trips, but they are just as fun.
Fishing in the more shallow waters yields great results and lots of variety. All year round you can get Cubera and Red Snapper, and exotic species like the famed Roosterfish.
Since inshore fishing is closer to shore you can enjoy half day or full day trips. Calmer waters and visual reference points also help with motion sickness concerns.
This is great for avid anglers looking for exotic species or beginners wanting to try a new activity.
With less pressure and more variety, inshore fishing in Costa Rica is a great alternative for you try.
Fresh and Saltwater Fly Fishing
Fly fishing is the long lost fame for Costa Rica.
After years of silence, the fly fisherman is making his way back to Costa Rica's waters. With the country's diverse species and calm seas, fly fishing in Costa Rica is on the round.
In Costa Rica, the key to a great fly fishing trip is finding the right guide. Unlike other styles of fishing, it takes a specialized crew to help put you in front of your target.
Try offshore fly-fishing for pelagics or switch things up inshore for Roosters. We also have many rivers and lakes that offer great fresh water fly fishing action.
One of the best destinations for those who want to mix things up is Lake Arenal. This man-made lake is home to the beautiful "Guapote," or Rainbow Bass.
It's also possible to catch Machaca (a hard-fighting seed-eater) that jumps and fights like baby Tarpon.