Costa Rica Fish Species
When and Where to Target Your Costa Rica Fish Species!
Inquire Here
Fishing Seasons for Costa Rica's Popular Fish Species
From the mighty Marlin to the hard fighting Tarpon, Costa Rica offers a varied selection of fish for all types of anglers.

Acrobatic and strong, this is the largest and most sought-after fish on the Pacific Ocean.

Delicious and beautiful, this is an exotic and acrobatic target that will give you a good fight and a good meal.

This strong fish will try to outmuscle you every inch of the way. A real catch!

The fastest fish in the Pacific Ocean and one of the most prized targets.

A large, toothed fish from the shallower waters of the Pacific Ocean.

Also known as the Silver King, this massive fish is a real trophy.

Yellowfin Tuna are both strong and tasty. Don't miss out on one!
Costa Rica's Best Fish Species to Catch
From hard fighting Marlin to acrobatic Tarpon, Costa Rica has a wide variety of fish species for all anglers.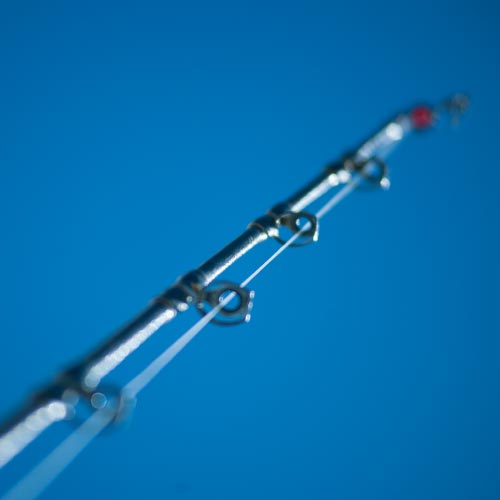 We just took our second fishing trip In June to Costa Rica... After our first fishing trip four years ago, I never even considered another person to help plan our second time to Costa Rica. Looking forward to the next trip back to Costa Rica, hopefully sooner than later.
Getting your Favorite Species
Costa Rica has a lot to offer for every type of angler. If you want to battle the heavier billfish, there's Marlin and Sailfish.
Enjoy light tackle with inshore species like Roosterfish or Jacks. Tarpon are fun as well on the Caribbean Coast.
If you are looking for dinner, Grouper, Snapper, Mahi-Mahi, and Tuna are always a fan favorite.
Freshwater enthusiasts also get their chance at Rainbow Bass, Machaca or Roncadora. Whatever your interests are, Costa Rica has plenty of opportunities for fishing action.
How to Catch the Fish You Want
Once you know the species you want to catch, then the fun part begins. Finding the right part of Costa Rica, during the right time of year is key. From here, it is all about getting the best guide.
Weed out the different options until you get to the boat, crew, and area that fit your ideal dream fishing trip.
With us, your fishing vacation can be hassle-free. If you're looking for advice and help in making a decision, that is what we are here for.
If you are an avid visitor to Costa Rica and looking for something new, we can help as well. In any case, our local fishing experts are here to help organize the trip of a lifetime.
Fish Species in Costa Rica
It's also good to learn about the local species before the trip to make sure you know exactly what to expect.
This is an overview of the most popular Costa Rica fish species you can here. Whether it is fresh water, salt water, inshore or offshore there is action for everyone.
We also offer conventional, spinning and fly-fishing guides for you to choose from.
If there's one species that is on your bucket list, let your travel consultant know immediately. Your ideal fishing vacations is our goal. Designed for you and around the fish you're after.
After all, these fishing trips are all customizable according to your goals!
The largest and most sought-after game-fish in the Pacifc. Those lucky enough to fight and land one of these monsters will have a fisherman's tale worth telling.
Target Marlin on the Pacific coast with an offshore trip.
Or plan an overnight adventure to fish the FADs and seamounts. Marlin are here year-round. The best months for day trips targeting Marlin are May – December. But the reality we catch marlin every day of the year in Costa Rica.
The most famed pelagic species found in Costa Rica. Sailfish are so abundant in Costa Rica that double-digit days are not uncommon.
Target this species on the Pacific coast. Go offshore for a day trip in the ideal area for your travel dates.
With great numbers found hear round, Sailfish are a staple for offshore enthusiast. The absolute best months are January – April in the Central Pacific.
However, they can be caught year-round in almost any part of the Pacific Coast.
Also known as Dorado, this colorful and acrobatic fish is a favorite game fish all over the world. Costa Rica's deep waters are a tropical haven for this animal and a great place to find it.
Target Mahi Mahi in the Pacific coast with an offshore trip. The best months to get one are between April and September, but they are caught year round.
The target and prize of the most serious inshore fisherman. The Roosterfish is one of Costa Rica's most sought-after inshore species.
Roosterfish are targeted on the Pacific coast's shallow waters reefs, with excellent numbers present all year. Live bait and water clarity are the primary obstacles for a great Roosterfish trip.
Tarpon are found in shallow, warm tropical waters in the Atlantic ocean. From the Caribbean to the coast of Africa. Costa Rica's Caribbean coast is no exception.
Target this prehistoric fish along Costa Rica's Caribbean coast. This hard fighter and acrobatic jumper offers tons of action during key times of the year.
February and May, and then again between September and October are the prime months. These dates offer great weather and a lot of action.
One of the strongest fish in the sea, once hooked you'll see why people refer to tuna as a 'ball of muscle'. Target the Yellowfin Tuna in the offshore waters of Costa Rica's Pacific coast.
This species is most abundant between June and September, but with the new Tuna Decree in Costa Rica there are good numbers all year round as well in all parts of the country.
There are a variety of Snapper Costa Rica's most popular snappers are the Red and Cubera Snapper.
Find them on the inshore waters of the Pacific coast. Throughout the year they are abundant, except for the months of September and October.
Water clarity and weather can play a factor in snapper success. The Snapper is still here, but they can be harder to catch when the weather plays a factor.
Wahoo
Wahoo are found all over Costa Rica, but they are not as common here as in other parts of the world.
They live around offshore reefs, patrolling large floating debris. They are a great bonus fish on any given fishing day, with the best chances to catch one from May to July.
Snook
Snook are a great species to target for their strength and taste. In Costa Rica, they have become popular due to their record-breaking sizes.
Fish for Snook along both coast of Costa Rica and in our rivers and streams. During prime months, the snook action is hot and any given day could yield the next world record.
The best place to target Snook is the inshore waters of the Caribbean between February and May.
On the Pacific coast, they're available year-round along river mouths and estuaries. The Pacific coast action revolves around the Sardina run. Starting around mid-February – May and then again November – December.
Machaca
Machaca are one of the most aggressive freshwater fish in Costa Rica! Hard fighting with acrobatic jumps, they are great.
Catching with light tackle on Costa Rica lakes and rivers yields great results. earning the nickname "mini Tarpon".
For Machaca, head to Arenal Lake right next to Arenal volcano. Here Machaca is most abundant between January and May, when rivers are feeding lots of life into the lake.
Rainbow Bass
Better known as 'Guapote' (handsome) here in Costa Rica. Rainbow Bass are the main target of freshwater anglers.
Lake Arenal, near the eponymous Arenal volcano, is the place to go for this species and some adventure.
Like Machaca, it's most abundant between January and May, but they can be caught year round as well.