Author: Jake Alexander 
Why is Costa Rica the top destination for lady anglers?
Since the first boats reported the numbers of sailfish and marlin off the pacific, Costa Rica has been, and remains, one of the top fishing destinations in the world. The calm seas and world class fishing make this a truly unique and enjoyable experience. Costa Rica is a top destination for lady anglers because of the fishing conditions, tournaments, safety, accommodations, supportive crews and so much more!
If you're looking for high odds of catching billfish, Costa Rica is one of the best places in the world. It is common to have double digit bites on a full day offshore. The flat calm seas create an enjoyable time behind the rod and reel, rather than hanging your head over the gunwale.
Costa Rica is well known for a number of tournaments, but did you know there are two dedicated ladies-only tournaments?
The first tournament is the Ladies Angler Tournament at the Los Suenos Resort and Marina. This is a one-day tournament in January and coincides with the first leg of the Signature Triple Crown Series. 2020 was the 2nd year for the Los Suenos Ladies Only Tournament, which hosted 17 teams made up for 52 individual anglers. During the tournament anglers released 59 sailfish, and 18 marlin, for a combined 77 billfish releases. The 2021 tournament is scheduled for January 18th -19th.
The second tournament, The Pescadora Billfish Championship, takes place in February at Marina Pez Vela, in Quepos, Costa Rica. This is a 2-day fishing tournament, crowning the world's top lady anglers. The unique format supports anglers of all skill levels, from the seasoned vet, to the first timer. The 2021 tournament is scheduled for February 18th to the 20th.
To get some more insight into The Pescadora Billfish Championship, I sat down with Tournament Director, Sam Mumford.
What makes The Pescadora Billfish Championship different than other tournaments?
"The Pescadora Billfish Championship is the most unique women's fishing tournament in the world. It brings experienced and non-experienced female anglers, of all nationalities, together to compete for the title of the World's Top Lady Anglers! Two Female Angler of the Year awards are presented… one to the female who reels in the most fish (hook & hand), and the other to the female that hooks and reels in her own fish (per IGFA rules) along with overall team awards. There is no other billfishing tournament in the world with this new competitive ground-breaking format, it gives every skill level the ability to be competitive!
This event was designed to not just be a tournament. The goal is to encourage you to step out of your comfort zone through competition. Whether than means holding a rod all day to make you that much faster to the drop back, learning to fish with a different type of tackle that you aren't familiar with, or learning how to catch and release a billfish in stand-up gear…. they are all pieces to the puzzle that can help you be successful no matter where in the world you fish. The friendships that are built and the skills that are shared amongst the teams is an amazing sight to see.
Every morning before the teams leave the dock at 6:00am, I hand deliver a "good luck" mimosa care package to each team that includes a bottle of champagne and a jug of OJ packaged in a Pescadora ice bag. This year we went through over 80 bottles of champagne!
The Costa Rican heat is no joke! So, every evening when the teams step off the boat, we have lavender scented cold wet wash cloths available to the Pescadora's to wipe the days grime away.
During our awards banquet we suggest that all participants in the tournament wear white!
The tournament highlights an element of class within the sportfishing community."
Some notable statistics from the first tournament in 2019:
Most billfish released in any lady's tournament in history (512)
Women from 7 different countries participated
187 billfish tagged in two days. This is the most anywhere in the world with Gray FishTag
11 women caught their FIRST billfish
This last statistic is what made Tournament Director, Sam Mumford, the proudest.
Each year at the end of the event I am inundated with excited tales of firsts…. my first sailfish, marlin or tuna. Or even… my first-time fishing offshore. This is what it is all about. I love seeing friendships being made and women coming together to hone in their skills of fishing. The whole goal in the 2 category system was to provide a platform for both amateur and non-amateur skill sets to be able to fish, and learn, from the same team for an overall goal, yet still allow experienced female anglers to compete amongst themselves.

The passion, tears of joy and sheer excitement we see from the women walking up to the stage to accept their Female Angler of the Year trophies makes every second of a year's planning worth it! – Sam Mumford
Beyond supreme fishing conditions and female-focused tournaments, Costa Rica has safety and security covered! In fact, it is ranked #1 out of all the countries in Central America and the Caribbean and even recently passed a law increasing penalties for harassment of women. Lady anglers can feel at ease walking around the resort, the marina, and around town. In addition to your safety around the resort and surrounding areas, the charter fleet are also required to carry proper safety equipment and participate in a stringent inspection every year.
Speaking of resorts, any of the locations around Costa Rica offer accommodations to meet your needs. From small boutique hotels, to condos and private homes, we have accommodations for groups of every size. Both marinas offer on-site accommodations, making your stay convenient, luxurious, and safe.
If we've piqued your interest in fishing, but you've never been before, no worries at all!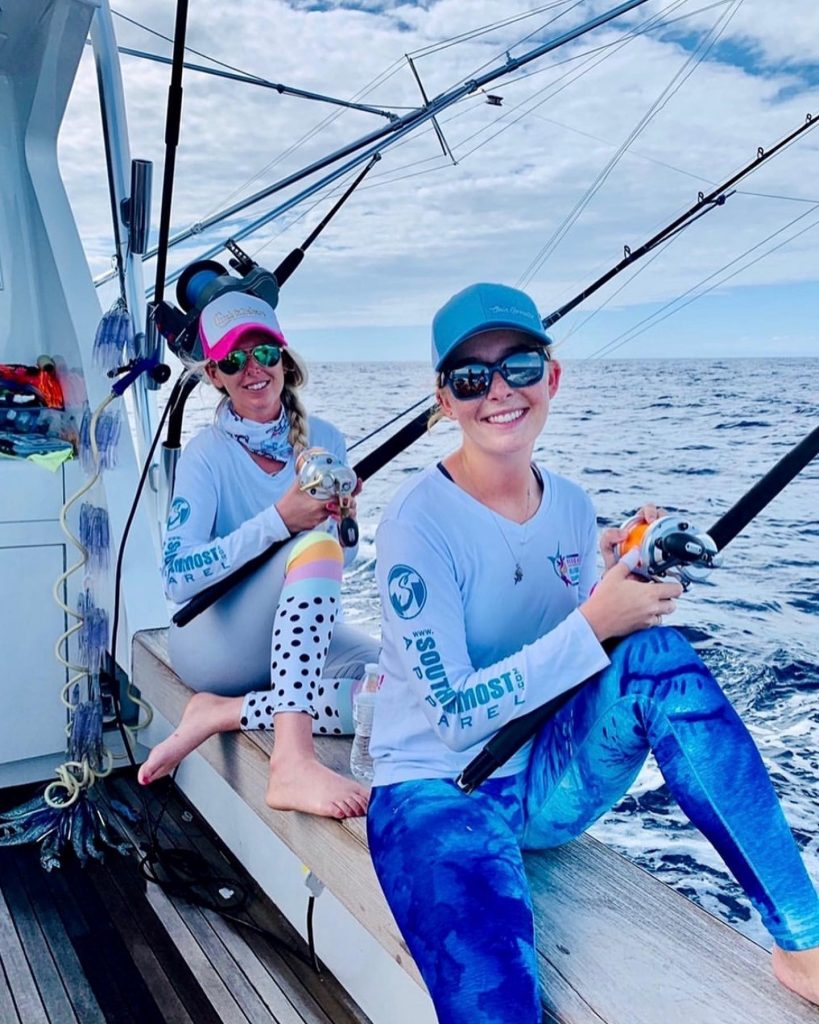 The experienced captains and crews are eager to teach and help you learn to hook your first billfish or continue to fine tune your skills. In addition, there are a number of women who live here full-time and support the lady angler movement. Women make up the fastest growing segment in sport fishing, and there is no sign of this trend slowing down. A recent study done by the Outdoor Foundation found that women accounted for 34.8% of the 49.1 million Americans that went fishing in 2019. Plus, 50% of all kids that go fishing, go with their MOM. So, skill set aside, know that Costa Rica is full of supportive crews and lady anglers ready and willing to help you hook a billfish!
Don't just take our word for it, Katie Larrimore, 2020 Pescadora Billfish Championship participant has this to say:
"The first time I ever backed down on a billfish I knew I was hooked. The sound of the boat switching into reverse, your crew cheering you on, the feeling of the fish pulling on the line, and then seeing the fish jump out of the water – it's a thrill like no other.
Although I love all kinds of fishing, billfishing is without a doubt my favorite. I love the challenge that it brings. Costa Rica had been at the top of my fishing bucket list for a long time. I was attracted to the variety of billfish there – blue, black, striped, sailfish! With the warm waters and abundance of structure – Costa Rica is any billfish lover's dream!
Costa Rica exceeded all my expectations. Everyone I met was so friendly, the country was breathtaking, the food was delicious, and most important to me, the fishing was amazing. I was lucky enough to have the opportunity to participate in an all-female billfish tournament while in Costa Rica, the Pescadora Billfish Championship.
It was so great to come together with other likeminded females and experience the comradery and competitiveness that comes with tournament fishing. Our boat crew was great and allowed us to be hands-on and learn a lot. I was able to catch and tag my first sailfish. I named that fish after my mom who passed away last November after a long, hard-fought battle with breast cancer. My mom was without a doubt the strongest woman in my life, she always stood up for what she believed in and she never let anything stand in her way. She inspired me to chase all my dreams and to never give up.
A male-dominated industry, women can often be intimidated by the sportfishing world. My biggest piece of advice to women looking to get into fishing is to just go for it. At the tournament we all received cups that said "Life's short, might as well be a badass" – it really is so true. I can't wait to go back to Costa Rica and check more fish off my bucket list."
Photos by Katie Larrimore
Come see for yourself why the fishing conditions, tournaments, safety, accommodations, and supportive crews make Costa Rica a top destination for female anglers.
But don't let planning your get-away turn into a daunting task. Leave it to the experts and enjoy your time here stress-free. From transportation, accommodations, fishing, and tours, we are here to help with it all. Contact us at 855-869-7390 or jakealexander@namutravel.com