Costa Rica Seamounts & FADs: Why & How to Do It?
By Justin DeBoom.
So what is all the hype about the seamounts?
Here in Costa Rica, this is the newest fishery that is taking the world by storm.
With incredible numbers of fish at the FADS, any angler will find the Costa Rican seamounts offer the perfect challenge and rewards for any experienced angler. Here at Fishing Vacations we have all the details you need to plan the fishing trip of a lifetime!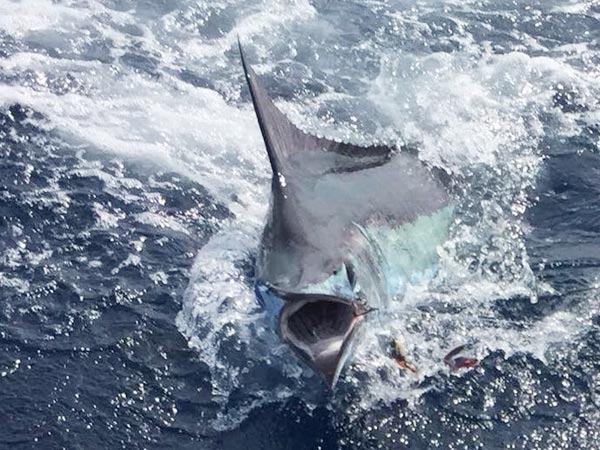 Believe the Hype: Trips To Costa Rica Seamounts & FADs
Coco's Ridge is the tectonic plate that runs from mainland Costa Rica to Coco's Island, and it's fast becoming the best Marlin fishing destination on the planet.
These seamounts are dormant or ancient volcanoes that rise up from the seafloor, creating natural current changes and holding large amounts of bait and pelagic fish in the process.
Over the past 7-10 years, a group of private boat and charter boat owners have invested in FADs that are deployed and located on top of these seamounts. These FADs (Fish Aggregating Devices) take advantage of the natural structure on the seafloor and enhance the attracting nature to create the perfect ecosystem.
Once the FAD is set and has had some time to mature, life begins to show up.
These areas have become hot spots for thousands of small Bonita and Yellowfin Tuna. Just like any floating object you find offshore, this isolated mass of bait and life attracts the apex predators. Once the Tunas and Bonitas have shown up, the Marlin start to arrive in numbers.
Currently, we have a lot of tagging going on at the seamounts to try and understand where these fish come from and where they go when the FAD is gone. However, when they are here, the fishing is absolutely incredible.
The key to these trips is planning in advance, getting the right boat, and timing with ideal moon phases.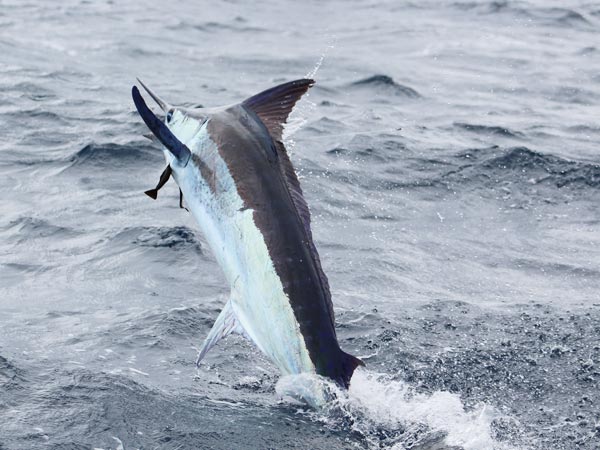 Overnight Trips
These types of fishing expeditions are done as overnight trips since the run to the seamounts is between 60 and 160 miles off the coast of Costa Rica.
Two, three, and even four nights are ideal and offer any angler the chance at multiple Marlin per day. Many times, they even get double digit releases during their entire trip.
Wide Variety of Species
With relatively calm seas and incredible fishing available, this is by far the best place on Earth to catch a blue Marlin. However, there is much more to get.
The FADs also attract stripe Marlin, Sailfish, Tuna, and Dorado, as well as the occasional black Marlin.
Travel Seasons
The peak season for this fishery is from mid-March to mid-December. Last year, we had many many boats releasing 20 plus Marlin in 3-night trips, and some even got in the 30 plus Marlin releases. However, a typical trip should yield 6-10 bites a day with a 50-75% release rate.
It's possible to get great numbers as well at most other times of the year.
Lodging & Destinations
For these types of trips, there are also three key areas in Costa Rica to focus on. Los Sueños Resort and Marina, Marina Pez Vela in Quepos and Golfito.
Our largest fleet of boats ready for the seamounts and FADs are in Los Sueños and Quepos. With a little bit of research, you can find the accommodation and location that works best for you.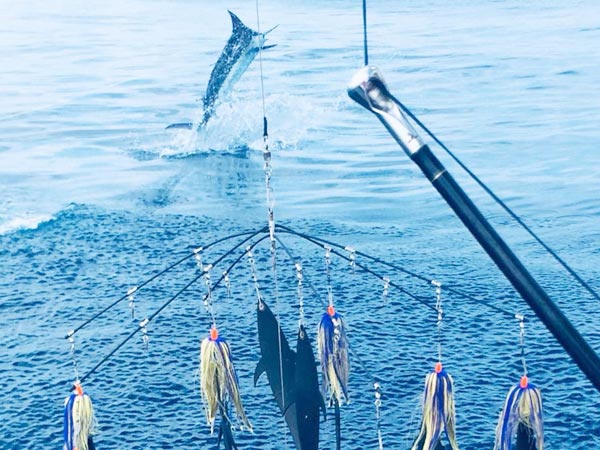 The Best Techniques at the Seamounts and FADs
Once you have planned your trip, the next thing is preparing for this adventure. Hone your skills and get prepared, because these are the four most popular ways to fish at the FADs and Seamounts.
Whether you are a seasoned angler or are just starting out, this is what you can expect:
1. Pitch Baiting
The truth is almost any technique will work when fishing the FADs. However, the single most popular style is pitch baiting.
Pitch baiting is like bait and switch. Most captains will pull a spread of four hookless teasers: two short teasers and then two long teasers. Sometimes, when the bit is red hot, just two teasers are used.
Once the Marlin shows up in the spread on a particular teaser, the crew will begin to reel in the teaser. This is where the pitch bait comes into play. At the seamounts, our typical pitch bait is a rigged Bonita or Yellowfin Tuna. These range in size from 1-4 lbs.
Some captains will also use larger ballyhoo with a chugger head. Using a #9-10 circle hook, these baits skip along the surface of the water, making a perfect attractant for your Marlin.
As the crew brings in the teaser, you will drop back your pitch bait to the same area. Once your bait is in place, the crew will rip out the teaser and the Marlin will most likely make the switch to your bait and then it is game on.
2. Troll Lures
It's also possible to use troll lures if you like that format. Granted, lure hook-up ratios are not typically as high, but some crews have really dialed this in and get a nice 50-75% hook-up as well.
This is a bit less technical on the actual process, but it still offers some of the most insane bite shots as well as wild gray hounding once hooked up.
3. Live Bait
Another popular form is using live bait. However, we try not to do live bait fishing at the seamounts unless the bite is slow and you are the only one on that particular FAD.
For the die-hard dead bait fisherman, live baiting seems like cheating. However, when things get tough, dropping back a nice lively Bonita or Tuna around the FAD is as much of a sure thing as you can get.
Sometimes the action is a bit less on the jumps, but the hook-up ratio is excellent and during slow times of the day, this technique can keep things moving along.
For the more experienced anglers or those looking to try something new, spinning and fly fishing gear is always fun.
For spinning, the techniques are almost identical as in pitch or live baiting. However, with fly equipment, it is all about the pitch bait technique, but your bait is the fly against a rigged natural bait.
In the end, there are endless ways to fish for Marlin at the Seamounts. However, keep in mind if you have a specific way you want to fish, let us know, so we can pair you up with the best crew for that style.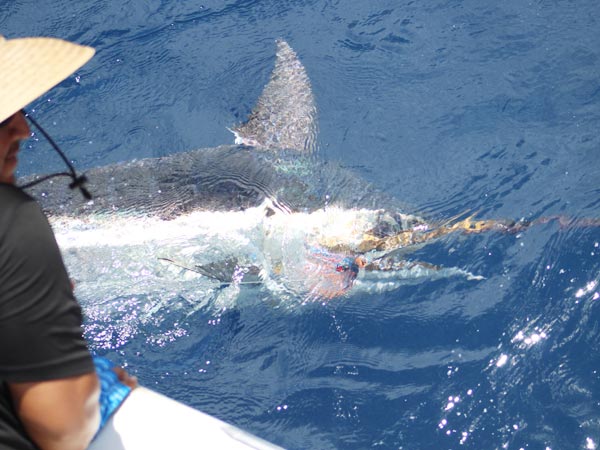 And What About the Tackle?
For all styles of fishing, we tend to use lighter tackle here.
Our typical Marlin at the FADs ranges from 150 to 350 lbs. Every once in a while, you will hear of a fish larger than 350 lbs, but that is not the norm.
However, with fish this size large gear is not needed.
Most of the time you will be using 50 lb class reels or lighter. This makes for a much more action-packed experience with stand-up and is better for the fish survivability.
There is also a fighting chair on all our seamount and FAD boats, so if you do get a tough fish that decides to dive down deep, you have that relief as well.
If you would like to know more about these trips or plan your 2019 or 2020 seamount/FAD trip, there is no better time than now. Contact us and we'll gladly lend you our expertise and firsthand knowledge to make this the fishing trip of your dreams!