The Perfect Fishing Honeymoon in Costa Rica
By Justin DeBoom
One of the most common vacation plans we get asked about are honeymoon and anniversary packages. Whether you want a longer stay or a shorter getaway, there's something for everyone.
Costa Rica has long been famous for the perfect romantic destination. We have some of the most amazing boutique properties that offer everything you are looking for in a romantic getaway. And the best thing is, fishing is easily accessible from many of them!
Planning A Romantic Escapade for the Fishing Enthusiast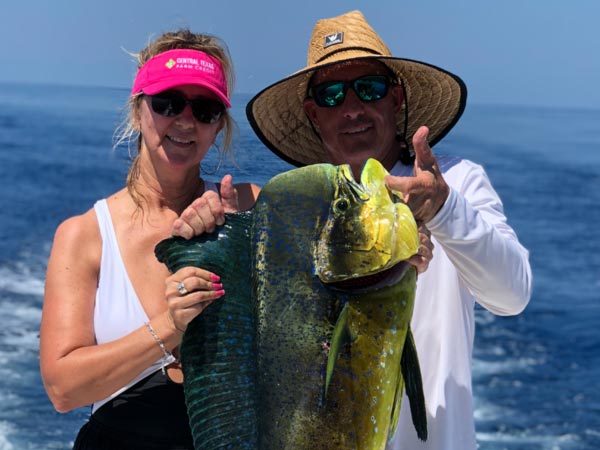 How do you plan the perfect honeymoon or anniversary and get a bit of world-class fishing included as well?
When I get this type of question, there are a few things I take into consideration:
1. Do Both of You Want to Fish?
Or just one of you? This is a big factor in planning the best fishing combo trip.
If both partners want to fish, then the options are limitless on where to send them. However, if one person wants to stay behind, then it is important to make sure the property or destination has plenty of things to do for the person hanging behind.
2. Is Fishing the Priority?
Or is it just one thing you want to enjoy during your honeymoon or anniversary in Costa Rica?
Like any vacation, knowing what you want to do and some general ideas on the areas you would like to visit (or what you would like to see) will help define the ideal trip for you.
Everything can be planned according to your interests to satisfy all parties, just let the expert travel know.
3. What Else Would You Like to Enjoy in Costa Rica?
Most visitors know Costa Rica for the amazing flora and fauna as well as world-class fishing. Depending on the other activities or interests you have, this will directly impact the layout we would recommend for your trip.
Fitting in all the activities you want may require extra time for transportation to a location away from the marina. Sometimes, everything can be done nearby. Simply let your travel expert know what you want and we'll do our best.
4. What Do You Want to Fish For?
Like any fishing trip anywhere in the world, knowing what you want to target is a key factor in planning the perfect trip.
This will also help us make the best recommendations on the areas to visit based on the fishing seasons as well as the best regions for your travel dates.
Simply said, we put you where the fish are based on the time of year you want to visit Costa Rica.
5. How Many Days Would You Like to Fish?
This goes back to point 1 and 2. If fishing is the main focus of the trip, knowing how many days you want to fish along with the species you want to target will help define the trip itinerary.
Beyond those questions, there are lots of other details that will come into play. With those key points identified, the fun part then begins.
Splitting the Trip: Fishing, Romance, and Adventure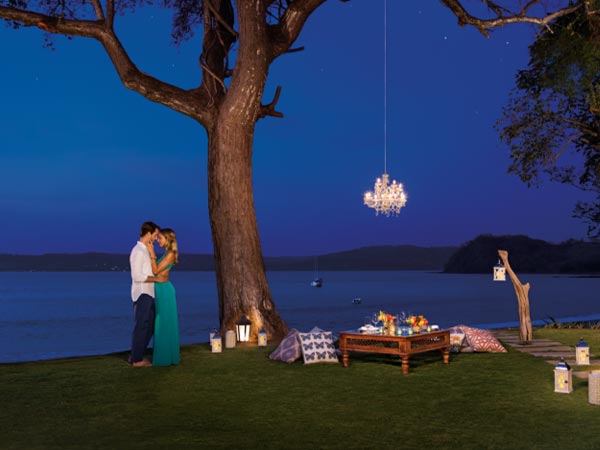 Once you share this general information with us, we will start designing a sample package. I find that most couples looking to visit for a significant reason like their honeymoon or anniversary are looking for a mix of activities to enjoy as well.
Granted, there are many couples that love fishing as a whole and that is the ideal trip for them. For others, a split trip or a highlights trip is a great way to experience Costa Rica. Many times, this is the perfect balance of fishing, romance, and adventure!
When considering a honeymoon or anniversary fishing trip to Costa Rica, think outside the box.
Boutique Experiences and Personalized Service
The beauty of Costa Rica is that it is not like other destinations in the world. About 80% of our hotels here have 30 rooms or less. This means it is not your typical destination in the tropics, where it's mostly full of large brand resorts.
Yes, we do have some large all-inclusive or mega-resorts here, but the majority of the hotels are boutique properties that offer exceptional services located in great areas to enjoy the real Costa Rica.
I always tell clients: when you arrive in Costa Rica, everything is new. When you leave Costa Rica, it will feel as though you are leaving family behind. The Costa Rican culture and Pura Vida atmosphere are what separates this destination from others with its warm and welcoming attitude.
Where to Go During Your Fishing Honeymoon or Anniversary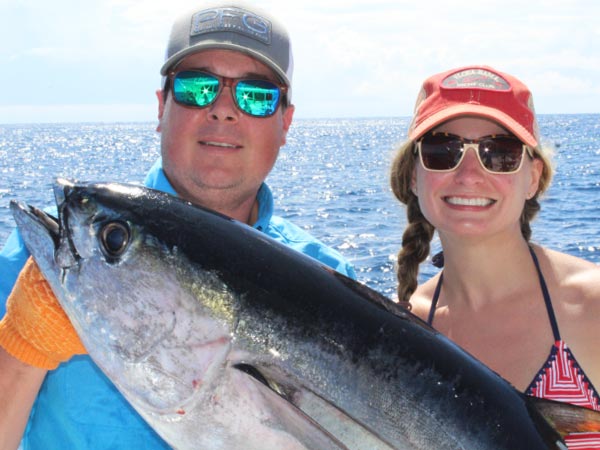 Consider splitting your trip into two areas. Even though Costa Rica is a small country, there are 9 different microclimates throughout, and each location has different offerings.
For couples, a great plan is spending a few nights around the Arenal Volcano area in one the amazing boutique properties designed for an intimate experience.
Places like Nayara Resort are second to none when it comes to romance and privacy. After a few nights there enjoying that area and all the great adventure activities, then head to the coast for some beach time and world-class fishing.
The move between the two areas is not difficult and with our private ground transport or access to domestic flights, we make that part easy for you.
Once at the beach, there are some great options to consider. Getting the views and beach access is always ideal, but being close to professional fishing boats is just as important.
Fishing is never a cheap activity, so when you plan your honeymoon or anniversary with fishing in mind, you might as well make sure you are in the right area for great fishing with the best possible crew.
There is nothing worse than getting an expensive boat ride or the dreaded "should have been here yesterday" speech from the crew. To make sure you get the most out of your time and investment, let the local experts guide you with our knowledge!
Best Fishing Honeymoon Packages in Costa Rica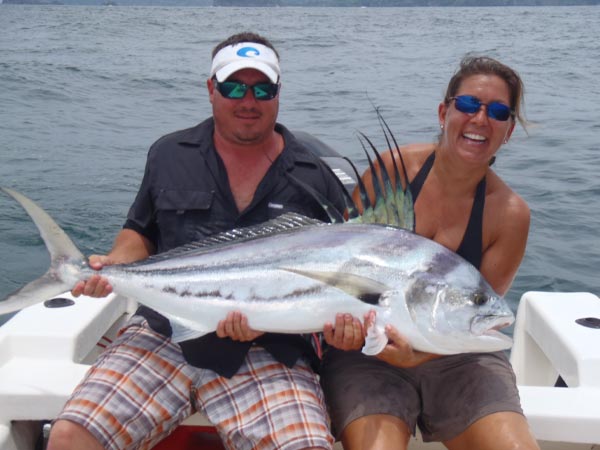 If you want to see what a romantic package with fishing would look like, here are a few of my top picks for honeymoon or anniversary packages.
Week-Long Trips with Volcano & Beach Combos
If you are looking for a week-long trip, doing a 7-night split trip is a great way to enjoy the country as well as some top-notch fishing. Depending on your priorities, this is a great way to get the best of both worlds.
Combo Trip in November-July
3 Nights in Arenal: At hotels like Nayara, The Springs Resort, Kioro, or Lomas Del Volcan
Adventure Tours: Zip Lining, Hot Springs, Rafting, Hanging Bridges
4 Nights in Manuel Antonio or Jaco: At hotels like Los Sueños Resort, Tulemar Resort, La Mansion Inn, The Falls Resort or Marina Pez Vela Villas
Fishing or Nature Tours: Sportfishing, national parks, beach & snorkeling trips
Combo Trip in August-October
3 Nights in Arenal: At hotels like Nayara, The Springs Resort, Kioro, or Lomas Del Volcan
Adventure Tours: Zip Lining, Hot Springs, Rafting, Hanging Bridges
4 Nights in Guanacaste: At hotels like Cala Luna, Capitan Suizo, Tamarindo Diria or the Westin
Fishing or Nature Tours: Sportfishing, national parks, beach & snorkeling trips
Weekend Getaways at the Beach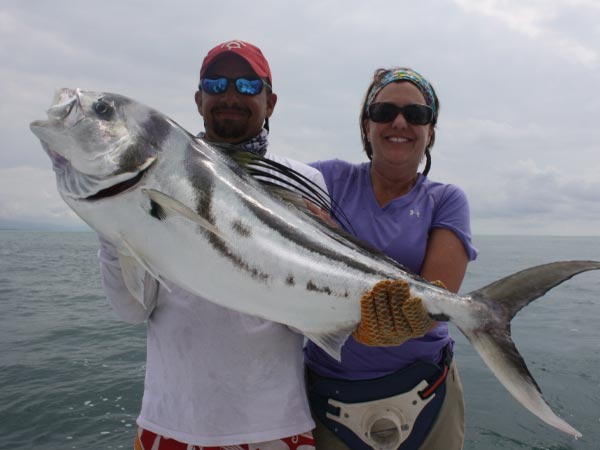 If you are short on time, but still want to get away, a weekend adventure is another popular trip.
These itineraries can be designed to meet any time of year and allow you to get in, enjoy the country, fish, and get out without taking too much time off from work.
Here are a few of our weekend getaway packages that are very popular as well:
A great package that can be designed around any dates in the year. Since the fishing here is great year-round, the key is to get advice on the best region for your target species during your travel dates.
It's not all about billfish and offshore. Costa Rica has long been famed for incredible tarpon fishing, too. Our season here is from February to May and then September to October. This is a different experience and a true adventure for any angler in the Caribbean coast.
This is by far the most incredible fishery for blue Marlin and a truly unique way to spend your anniversary or honeymoon. If fishing is both your passion, then spending 3-4 nights on the open ocean fighting great specimens is about as memorable as you can get.
Ready to Book the Romantic Trip of a Lifetime?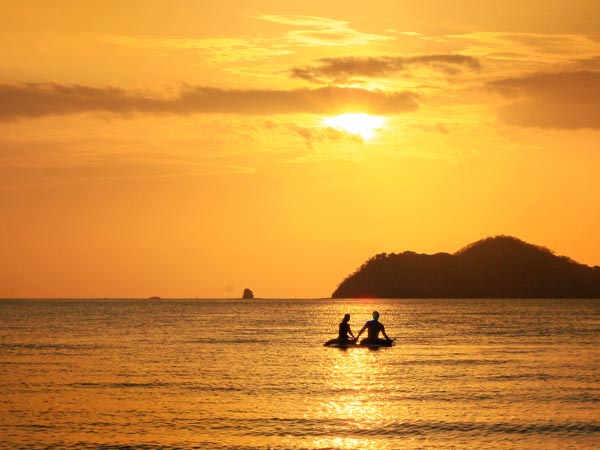 Planning your honeymoon or anniversary can be stressful, but it doesn't have to be. Try and figure out how much fishing you want to do and where you want to go.
Then simply let us know what you are looking for and that is what we are here to do. From the moment you arrive in Costa Rica to the moment you depart, our dedicated fishing experts are here to help you plan the perfect fishing honeymoon or anniversary adventure!